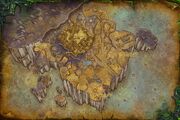 Eredath is the second zone of Argus, a relatively intact and uncorrupted floating island. Here, Prophet Velen tasks adventurers with recovering the

 [Sigil of Awakening] and the Crest of Knowledge to restore the Crown of the Triumvirate. In the process, they relieve the planet's past before the fall of the eredar civilization.
Dark Awakenings
Requires completion of the Krokuun storyline up to and including

 [45] Forming a Bond.
War of Light and Shadow
Requires completion of the Dark Awakenings storyline.
 [45] 

We Have a Problem

(Must complete  [45] 

Where They Least Expect It

before you can pick up)
 [45] 

A Non-Prophet Organization

&  [45] 

Wrath of the High Exarch

&  [45] 

Overt Ops

 [45] 

Flanking Maneuvers

&  [45] 

Talgath's Forces

 [45] 

What Might Have Been

 [45] 

Across the Universe

 [45] 

Whispers from Oronaar

&  [45] 

Arkhaan's Prayers

 [45] 

The Pulsing Madness

&  [45] 

Arkhaan's Pain

 [45] 

Arkhaan's Plan

 [45] 

Arkhaan's Peril

 [45] 

Throwing Shade

 [45] 

Sources of Darkness

&  [45] 

The Shadowguard Incursion

 [45] 

A Vessel Made Ready

 [45] 

A Beacon in the Dark

(grants  

[

You Are Now Prepared!

]

)
Follow-ups:
Side quests
Invasion Points
Though the first quest in the chain is given in Eredath, invasion points can be completed all throughout Argus.