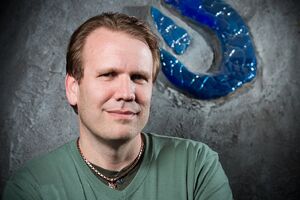 Eric Dodds is a former Blizzard Entertainment employee, and past professions designer for World of Warcraft. He was also Game Director for Hearthstone.
It was confirmed on October 28, 2019 that Eric Dodds had left Blizzard Entertainment.[1]
Official
As Blizzard Entertainment's lead designer for Hearthstone™: Heroes of Warcraft™, Eric Dodds oversees all aspects of gameplay, including card design, gameplay balance, game modes, and the user interface.
Dodds joined Blizzard Entertainment in 1997, and during his lengthy tenure with the company has served in key roles on numerous games. His first role was working on StarCraft® and Diablo® in quality assurance. Dodds then went on to serve as a level designer on StarCraft: Brood War® and Warcraft® II: Battle.net® Edition as well as on the strike team for Diablo II and the Lord of Destruction® expansion. He then joined the newly formed World of Warcraft® team and spent eight years serving as a systems designer. More recently he worked on the design of Diablo III before joining the Hearthstone team.
Dodds is a board gaming enthusiast who is always up for a game of Galaxy Trucker or Liar's Dice.[2]
Notes
References
External links

On the Hearthstone Wiki