This article is about the rulers of the Shadowlands. For the pantheon of the titans, see Pantheon. For the Warcraft RPG term for immortal beings, see Eternal.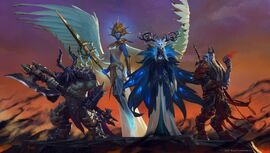 The Eternal Ones (sometimes called the lords of death)[1][2][3] are the most powerful beings in the Shadowlands[4] and rule over the realm of Death. They founded four covenants for the purpose of carrying out the many duties required to maintain their respective realms, and each one rules over one of the six main realms of the Shadowlands: Kyrestia over the kyrian and Bastion, the Primus over the necrolords and Maldraxxus, the Winter Queen over the night fae and Ardenweald, Denathrius over the venthyr and Revendreth, the Arbiter over the attendants and Oribos, and Zovaal over the Maw, which does not have a covenant as it prefers to torture souls rather than work with them.[5] Long ago, each Eternal One was given a sigil symbolizing their covenant's purpose.[6]
Together, the Eternal Ones make up the Pantheon of Death.[5][7][8] They are one of several pantheons that were created by the First Ones to embody the six cosmic forces.[9] Zovaal served as the original Arbiter, until he betrayed the rest of the pantheon. Led by the Primus, they united against him, imprisoned him in the Maw, and created a new Arbiter to replace him.[6][10]
The pantheon's traditional meeting place is the Crucible atop Oribos.[4] The pillar where Zovaal once stood has since been broken.
At least some attendants pray to the Eternal Ones like deities.[11]
Members
| Name | Realm | Faction | Description | Status |
| --- | --- | --- | --- | --- |
| The Arbiter[12][13] | Oribos | Attendants | The judge of all mortal souls that enter the Shadowlands, constructed to replace Zovaal. | Destroyed |
| Kyrestia the Firstborne | Bastion | Kyrian | Archon of the kyrian, whose duty is to ferry souls across the veil to Oribos. | Active |
| The Winter Queen | Ardenweald | Night Fae | Queen of the night fae, who ensure the rebirth of deceased Wild Gods and nature spirits. Sister and counterpart to Elune. | Active |
| Sire Denathrius | Revendreth | Venthyr | Sire of the venthyr, who are responsible for redeeming sinful souls, and the nathrezim, who were created to infiltrate the other cosmic forces. Betrayed the rest of the pantheon to side with the Jailer. | Active |
| The Primus | Maldraxxus | Necrolords | Ruler of the necrolords, who defend the Shadowlands from outside threats. Legendary tactician, weaponsmith, and creator of necromantic rune magic and Domination magic. Long went missing due to being imprisoned by the Jailer and turned into the Runecarver before being freed by Maw Walkers. | Active |
| Zovaal the Jailer | The Maw | Mawsworn | Originally the Arbiter, but betrayed the rest of the pantheon and was sentenced to become the Jailer of the irredeemable souls trapped in the Maw. Seeks to use the knowledge in the Sepulcher of the First Ones to remake reality. | Active |
Notes
Gallery
References