Everburning Treant
Use: Teaches you how to summon this companion.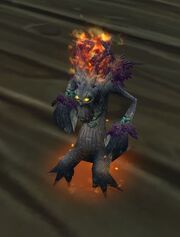 The Everburning Treant is a treant companion.
Source
This item drops from

Zim'kaga or

Onu in Darkshore.
Pet Journal
A lone Ancient of Lore in Darnassus managed to save this Treant in its final actions with a magical aura to prevent the flames from burning it any further.
Battles
Elemental: Ignores all negative weather effects. Enemy pets can still gain the beneficial effects from weather when facing an elemental.
Patch changes
External links
Battle pet types
Elemental battle pets

Char

Dread

Everburning Treant

Fun Guss

Leafadore

Mawtouched Geomental

Stabilized Geomental

Stemmins

Withering Creeper