Everliving Statuette

Korthian Relics

"The events that this statuette have witnessed would boggle the mind. One could learn a lot from it, if only it wasn't so duplicitous."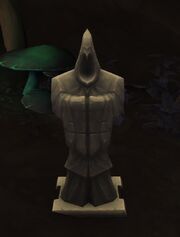 Everliving Statuette drops from Yarxhov the Pillager in the Chamber of Knowledge in Korthia. It starts

 [60] Everliving Statuette.
While in the player's inventory, with the player in Korthia, the statuette whispers:
A city of secrets. A history of lies.

Hidden from daylight, a sleeping flame rests atop the sixth tree.

Hope. Betrayal. Sacrifice. Faces change. The tale does not.

How many voices do you heed? How many are real?

So many secrets, so little time left to share them.

The seventh covets what the six hold fast. The fulcrum wavers. All will be undone.
Patch changes
External links