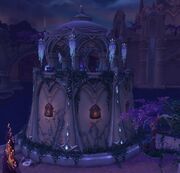 Evermoon Terrace is a small tower located in the Evermoon Commons district of the nightborne Suramar City.[52, 79]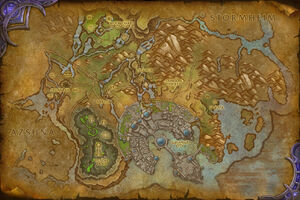 It can be found along the shores of Suramar Bay and overlooks a large deal of the surrounding area.
During the earlier stages of the Nightfallen rebellion, the terrace saw little use, but following the massacre at the Waning Crescent, it was covertly occupied by the Nightfallen rebels, who established it as their new base in the district. In particular, the tower was used by the rebels Silgryn, Arluelle, and Victoire as a watch and meeting point. A telemancy beacon present provided an instant connection to the main Nightfallen base in Shal'Aran.