Exalted with Exodar Club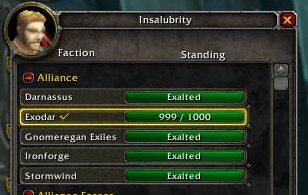 The Exalted with Exodar Club is a group of Alliance players who raised their reputation with Exodar up to "exalted" before the Burning Crusade expansion pack hit retail. The Club was founded in early January of 2007 by Insalubrity, a human warrior on the American realm Illidan, who shortly after its creation announced this event on the American forums.
Hitting exalted with the Exodar faction — since there were only a few Draenei NPCs in the game — required a lot of time, but was possible nonetheless by means of Alterac Valley turn-ins, which have 20% spillover to all factions. Insalubrity and his fellow club members expressed that they used this method to reach exalted status.
The player organization received major attention after being featured in the popular World of Warcraft blog, WOW Insider.
External links

World of Warcraft
 Original forum thread

WoW.com
 WOW Insider blog post