Executor Zygand
Executor Zygand is a level 14 quest giver located in Brill in the forsaken starting zone of Tirisfal Glades.
Quests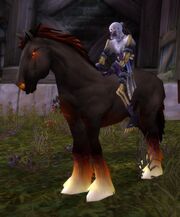 The subject of this section was removed from World of Warcraft in patch 4.0.3a.
Quotes
Gossip
The Scarlet Crusade is encroaching on our homeland. The foolish zealots do not realize that the loyal servants of The Dark Lady shall see to their demise.
Patch changes
See also
References
External links