Exodus

Start
King Genn Greymane[26.4, 46.9]
End
Prince Liam Greymane[51.8, 80.5]
Level
1-20
Category
Gilneas
Experience
700
Reputation
+250 Gilneas
Rewards
2 25
Previous
  [1-20] 

Alas, Gilneas!

Next
  [1-20] 

Stranded at the Marsh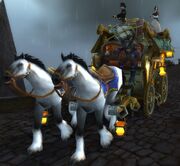 Objectives
Board a carriage below Greymane Manor.
Description
We have no choice, <name>. We must move further inland.
I don't like it one bit, but we're vulnerable here.
Return to the stables below the manor. Let's get everybody on carriages and send them eastbound. I pray it's not too late.
Rewards
Completion
Thanks for stopping, <name>. Our carriage got hit pretty bad.
The one in front of us got it worse.
Notes
Head back down to the front of the manor and hop on a carriage. It will trek out of the Duskhaven toward Stormglen Village, but stops upon reaching the Stagecoach Crash Site, where Liam Greymane awaits.
Progression
Patch changes
External links