Experiment-In-A-Jar
Use: Teaches you how to summon a Discarded Experiment.
Experiment-In-A-Jar is a rare drop from Maloriak in Blackwing Descent.
Pet Journal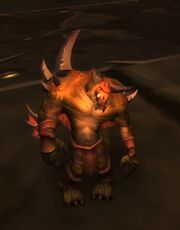 Maloriak was nothing if not resourceful, not letting even small scraps of flesh go to waste.
Battles
Dragonkin: Deals 50% additional damage on the next round after bringing a target's health below 50%.
Criteria of
Patch changes
External links
Battle pet types
Dragonkin battle pets