Exterminate the Intruders is a quest in the Waygate quest chain in Sholazar Basin.
Objectives
The Avatar of Freya at the Rainspeaker Rapids wants you to go to the Cultist Encampment to the northwest and slay 8 Cultist Infiltrators.
Description
I am an embodiment of but one aspect of Freya, daughter of the titans. I am the Lifewarden—I was left here to protect this land against the threat of the Scourge.
I never anticipated the Lich King would send willing living servants to do his work.
I could easily crush these cultists myself, but I am all that stands between the undead armies and the rest of the basin. Go, <name>. Deliver my wrath to these insolent trespassers.
Rewards
Progress
Have you destroyed the trespassers, <name>?
Completion
You speak the truth. The intruders at the camp were dealt with... but I'm afraid it might have been too late.
Gains
Notes
The cultist camp is at [57, 41]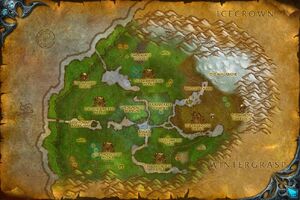 . The cultists drop small bombs, which you'll want to avoid.
Progression
Patch changes
External links