Objectives
Use Milly's Extinguisher to put out 8 Vineyard Fires.
Vineyard Fire extinguished (8)
Provided item:
 [Milly's Fire Extinguisher]
Description
Times like these make me long for when the Defias were still around. The cataclysm has opened a pathway from the Burning Steppes and now Blackrock orcs pour into Northshire Valley! They have taken over my vineyard and are burning it to the ground! TO THE GROUND!
Please, <name>, that vineyard is all I have. Take my fire extinguisher and extinguish the flames at the vineyard. There still might be hope for that land!
Rewards
Progress
Have you put out the fires?
Completion
Bless your heart, <name>. You truly are a hero of the Alliance! Though the land is completely incinerated and there is nothing left of the vineyard but ash and debris, I still might be able to recover. Right? How bad can it be?
Notes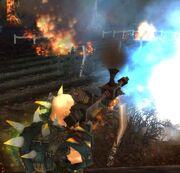 Pick up

 [1-10] Blackrock Invasion before heading out.
There are some trees on fire in the vicinity of the vineyard. However, players must look for an empty spot in the vineyard where there are flames. Simply face in the general direction of the flames and use the extinguisher.
Progression
Patch changes
External links