Tempest Keep
The Eye, TE, TK Raid



The Eye loading graphic

Location
Tempest Keep, Netherstorm
Affiliation
Sunfury
Race(s)
 Blood elf
Arcane guardian
Dragonhawk
Void Reaver
Mo'arg
Phoenix

End boss
 Kael'thas Sunstrider
Instance info
Type
Raid
Advised level
70+
Player limit
25
Key
 

[

The Tempest Key

]

(removed 6/19/07)
The Eye is the inner palace of Tempest Keep in Netherstorm and stronghold of the "Sun King", Kael'thas Sunstrider. In-game and out of it, it is often known simply as "Tempest Keep". The tokens for tier 5 shoulder and chest pieces drop in the Eye. There is no longer any attunement required to enter this instance.
Background
The mighty Tempest Keep was created by the enigmatic naaru: sentient beings of pure energy and the sworn enemies of the Burning Legion. In addition to serving as a base of operations for the naaru, the structure itself possesses the technology to teleport through alternate dimensions, traveling from one location to another in the blink of an eye.
The Eye itself is the inner sanctum of Tempest Keep - the lair of Kael'thas Sunstrider and the heart of the teleporting fortress.[1]
Geography
Maps
Subregions
Dungeon denizens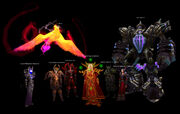 Bosses and mobs
As with SSC, the trash respawn timer is 2 hours.
Loot
The tokens for tier 5 shoulder and chest pieces drop in the Eye.
Quests
Achievements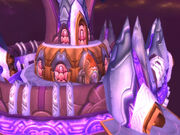 Attunement
Though the attunement is no longer required, the quests still remain in-game and can still be completed if desired. The player title of "

 [Champion of the Naaru]" was achieved by those that completed the attunement quest chain. The title is no longer available. The quests to complete the attunement for The Eye are given by A'dal in Shattrath City after successful completion of

 [25-30G5] The Cipher of Damnation questlines in Shadowmoon Valley. It begins with

 [25-30] The Hand of Gul'dan.
Patch changes
See also
References
External links