This article is about the dungeon. For the open world zone of the same name, see Eye of Azshara.
Eye of Azshara is a dungeon located in Azsuna. This is where you contend with the minions of Queen Azshara and her naga.[1] A fully-built uninstanced version exists south of Azsuna.
Background
Dungeon Journal
Amidst outlying shoals off the coast of Azsuna, an ancient source of power lies beneath the waves. Long ago, the power of Queen Azshara extended throughout these lands, and the naga seeking the Tidestone of Golganneth still act at her behest. As clouds roll in and the air crackles with the energy of an approaching storm, Azshara's followers prepare to summon an incarnation of her Wrath to lay waste to the land.
Geography
The instance consists of four areas in each of the cardinal directions, with each area having a boss that is next to the central area where the Wrath of Azshara is being summoned. There is a bay to the northwest where some world quest targets spawn.
Maps and subregions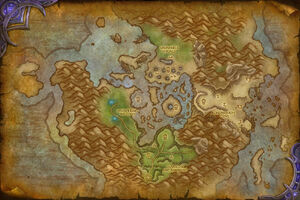 Quest guide
...
NPCs
...
Loot
Achievements
Notes and trivia
The entrance to the dungeon is found at the Hatecoil Warcamp in the El'dranil Shallows of Azsuna and not on the actual island.
In 2014, Blizzard was stated to have registered a trademark in Benelux for a bit of "computer game software" called Eye of Azshara. This led to the rumor of a new WoW or Hearthstone expansion announcement during BlizzCon 2014.[2]
Gallery
Eye of Azshara initial paper mapping design document by Paul Cazarez.
Patch changes
References
External links