Eye of Twilight
"You look into the eye, and the eye looks back."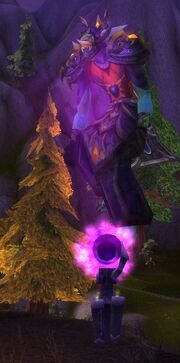 Eyes of Twilight are communication and control devices used by the Twilight's Hammer. They can be used to maintain control over the minds of those who gaze upon or into them, and in at least one instance, have been able to spy upon the doings of Cho'gall.
One Eye of Twilight is a quest item for

 [84] The Eyes Have It in the Twilight Highlands. Another can be found exercising control over people near Gar'gol's Hovel in Mount Hyjal during the

 [81] The Eye of Twilight.
Related quests
 [81] 

The Eye of Twilight

 [81] 

Mastering Puppets
Patch changes
External links
Item
(Twilight Highlands)
Mt Hyjal
object
Twilight Higlands
object