Eye of the Scryer




Eye of the Scryer

Start
Ve'nari
End
Ve'nari
Level
60 (Requires 60)
Type
Weekly
Category
Maw
Experience
10,200
Reputation
+850 Ve'nari
Rewards
425x

[

Stygia

]


51 48
Objectives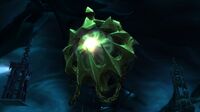 Obtain the Eye of the Scryer from Leerok the Scryer in The Maw.
Description
Evading the Mawsworn's scryers requires powerful magical countermeasures.
The prime reagent? A luminescent eye, pried from the skull of a scryer recently shaken from its trance.
The scrying ritual begins as we speak. You will, of course, be compensated only for an intact eye.
Restraint is advised in its procurement.
Rewards
Progress
Well? Do you have it, undamaged?
Completion
Do you think he saw that one coming?
That was an attempt at mortal humor. You may laugh at your leisure.
Notes
Trivia
During the alpha, this quest was named Scryer's Eyes.
Patch changes
External links