Faberge Egg
Use: Teaches you how to summon Francois.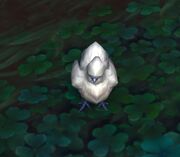 The Faberge Egg teaches you to summon Francois, a chicken companion.
Source
This item is obtained by talking to Francois while in the possession of 1,000,000

. The item itself is free, but this chicken is picky with its owners.
Pet Journal
Francois, a pompous member of the bockgeoisie, whose wealth and influence was born from the exploitation and labor of the peckletariat.
Battles
Patch changes
External links
Battle pet types
Flying battle pets

Archetype of Motion

Archetype of Satisfaction

Battie

Bloodsucker Vespoid

Dusty Sporeflutterer

Enraged Poultrid

Fluttering Glimmerfly

Foulwing Buzzer

Francois

Fuzzy Shimmermoth

Gilded Wader

Helpful Glimmerfly

Larion Pouncer

Multichicken

Necroray Spawnling

Pearlwing Heron

Scarlet Proto Avian

Sinfall Screecher

Stony

Vibrant Glimmerfly

Wader Chick

Wild Etherwyrm