Reputation rewards
Classic
The Burning Crusade

Wrath of the Lich King


Cataclysm

Mists of Pandaria


Warlords of Draenor


Legion


Battle for Azeroth


Shadowlands

A faction is a group of allies, either racial or ideological. Most in-game factions are described in Warcraft lore, but some were specifically introduced in World of Warcraft. The concept of a faction exists primarily in World of Warcraft. The use of factions in other Warcraft games is more for general grouping purposes and not quantitatively tracked like World of Warcraft.
Most factions are tracked in World of Warcraft by the reputation that a player character has with each faction. Some groups that are not tracked as factions appear in the organization list.
The term faction is also used to refer specifically to the two playable factions in World of Warcraft: the Alliance and the Horde. Each playable race is specifically aligned with one faction or the other, and all player characters of that race automatically belong to that faction. Pandaren characters are the exception and must choose a faction to leave the Wandering Isle, at around level 10. Once chosen, a character's faction cannot be changed through in-game means. However, there is a paid Faction Change service available that can perform this function. For all races except pandaren, using this service requires also changing your character to a new race, one that is aligned with the character's new faction.
A character's faction has numerous consequences. Characters can only talk, group, and create guilds with players from their own faction. Certain zones and cities in the world are also friendly to one faction while hostile to the other. The majority of the leveling experience will be determined by the character's faction, with different quests, NPCs and areas for each faction. Faction also determines a substantial amount of play: characters will fight the opposite faction in battlegrounds and world PvP; work to raise their reputation and earn the praise of the heroes of their faction; complete quests to aid their faction's efforts, and frequently fight against the other faction's NPCs; and generally spend the majority of their time in their faction's cities and surrounded by other members of their faction. Although many choose to play characters of each faction, some players develop a strong sense of faction pride, often leading to varying degrees of sparring and rivalry between players who identify with each faction.
Any organization or NPC not aligning to either playable faction are sometimes described as
Neutral between the two.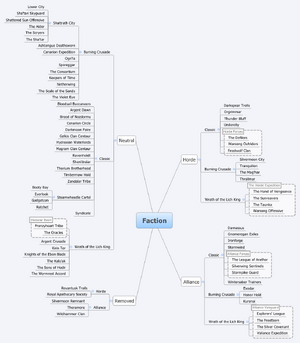 Classic
Individual NPCs
Individual NPCs
Individual NPCs
Ember Court NPCs
Removed factions
See also