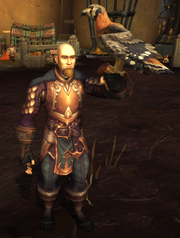 A falconer is an individual who hunts using trained raptors, such as falcons.[1]
Falconry is the art of using a bird of prey to hunt and catch game.[2] House Waycrest has long been known as experts in the art of falconry.[3]
The first and most important factor in falconry is the trust between the falconer and the bird.[4]
Known
Named
Unnamed
The subject of this section did not make it out of the beta stages of World of Warcraft: Legion.
See also
References