Source
This item drops from Majordomo Staghelm in the Firelands.
Notes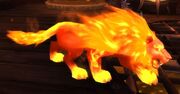 If a Druid equips this weapon and transforms into Cat form, they will appear as a fire cat (the same model that Staghelm transforms into during his boss fight).
Once the druid has activated the fire cat appearance, they can switch to another weapon. The fiery appearance for cat form will be lost once combat ends, though.
Patch changes
See also
Other versions
External links
Non consumed player-transforming items

Vendor
Drops
Treasure
Quests
Profession
Event
Other
Baseline
Talented
Tomes of the Wilds
Alternate appearances

Moonkin Form
Travel Form
Aquatic Form
Flight Form

Lore only
Removed