This article contains creatures from concept art. It may not exist in the Warcraft universe.

This article is kept purely for historical purposes and should probably not be under any other categories.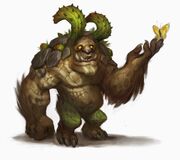 The farah were small, horned, heavily-built plant creatures seen in concept art for Warlords of Draenor. However, they never made it to the game.
Trivia