For general info, see fear effect. For the rogue dagger, see  

[

Fear

]

. For the manga, see Fear (Legends).
Fear

Fear
Level 16 warlock ability
30 yd range
10% of base mana
1.7 sec cast
Strikes fear in the enemy, disorienting for 20 sec. Damage may cancel the effect. Limit 1.

Usable by
Class
Warlock
Properties
School
Shadow
Cooldown
None/Global Cooldown
Other information
Level learned
16
Related debuff

Fear
Disoriented.
Duration: 20 sec
It fled without a word... unless "AAAAAGH!" counts as a word.[1]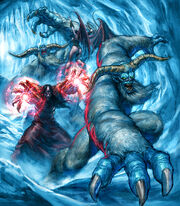 Fear is a level 16 warlock spell. Fear causes a single enemy to flee in fear, effectively disabling it temporarily.
Notes
The duration of Fear is dependent on several factors.

Fear has a potential PvE duration (versus mobs) of 20 seconds.
Fear has a potential PvP duration (versus players) of 8 seconds.

Fear has a damage limit. If the target takes damage equal to the limit, the Fear spell will break, regardless of the potential duration of the spell.
Casting Fear on your minion's current target will automatically cause your minion to stop attacking that target.
Numerous abilities and items such as PvP trinkets may allow players to break the fear effect prematurely, while others may render them immune.
Fear is subject to diminishing returns when used against players. Consequently, repeated use of fear effects upon a player within a 15 second period will reduce the duration of the effect considerably.
Fear is the only fear effect available to players that does not have a cooldown.
Patch changes
See also
References
External links