This article's name is unofficial.

Please note that while the content is valid, this article's name is not official.
This is because no official name is available for the subject of this article. We use a descriptive name instead.
This article should not be moved unless discussed first - Remember to follow the naming policy.
Not to be confused with Felhound.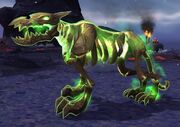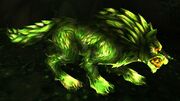 Fel wolves are ether skeletal demonic-wolves brought to life by the Shadow Council or wolves corrupted by fel magic. They are found on alternate Draenor.
Known
Skeletal
Living
Notable
As a mount

 [Infernal Direwolf] is rewarded from

 [Glory of the Hellfire Raider].
As a companion pet

 [A Tiny Infernal Collar] is rewarded from

 [40] A Fel Puppy Of My Own.
As a hunter pet
Living fel wolves are normally not tamable by hunters. The only exception is Felbound Wolf, which can be made tamable as part of the wolf family by using

 [Vial of Fel Cleansing].
Skeletal fel wolves are tamable as part of the hound family. They are classed as undead beasts; only undead hunters can tame them by default while hunters of other races must first learn the skill from a
 [Simple Tome of Bone-Binding].
Notes
Creature group
Demon creatures

Undead creatures