The subject of this article can no longer be obtained.

The in-game information in this article is kept purely for historical purposes.
Not to be confused with Felbat Pup (Broken Shore).
Felbat Pup
Use: Teaches you how to summon this companion.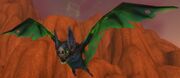 Felbat Pup was sold by Captive Wyrmtongue in Stormwind and Orgrimmar for 150

.
Pet Journal
A felbat's fire never burns its master.
Battles
Patch changes
External links
Battle pet types
Flying battle pets

Archetype of Malice

Archetype of Motion

Archetype of Satisfaction

Battie

Bloodsucker Vespoid

Dusty Sporeflutterer

Enraged Poultrid

Felbat Pup

Fluttering Glimmerfly

Foulwing Buzzer

Fuzzy Shimmermoth

Gilded Wader

Helpful Glimmerfly

Larion Pouncer

Multichicken

Necroray Spawnling

Pearlwing Heron

Scarlet Proto Avian

Sinfall Screecher

Stony

Vibrant Glimmerfly

Wader Chick

Wild Etherwyrm