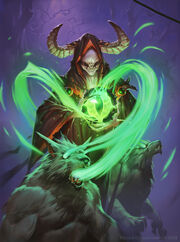 Felsoul Inquisitors are inquisitors located in Suramar.
Abilities
Shadowfrost Shard - Launches a frozen shard of dark energy, inflicting Shadowfrost damage to an enemy and reducing its movement speed by 50% for 4 sec.
Drops
Objective of
Quotes
You cannot hide from me.
I don't need you alive to know your secrets.
I see you.
I'll break your will.
My eyes see all.
So many questions, so little time.
This should prove enlightening.
You cannot hide from me.
You'll tell me your secrets before you die.
Trivia
Patch changes
External links