For other versions, see Fertile Soil.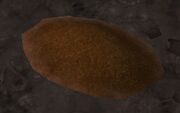 Fertile Soils are found all over the Broken Isles alongside rivers and lakes. However, the Ironhorn Enclave of Highmountain contains the most grouped in the area.
Usage
The fertile soil is used for seeds that are obtained from herbs in the Broken Isles.
Once a seed is used, it takes 20 seconds to fully grow and ready to be collected.
Patch changes