Filthy Paws
For the pre-Cataclysm version, see  [15] 

Filthy Paws

.
Objectives
Collect 6 loads of Miners' Gear from the Silver Stream Mine.
Description
The Silver Stream Mine to the east ran dry long ago. It was converted by the Miners' League into a storage depot, but now kobolds have moved in, putting their filthy paws on good, dwarven tools!
We'll root out those vermin soon enough, but the League wants someone to get their gear out of the mine before we warriors tromp in there and break things. It'll be a tough delve - you might want cohorts at your side.
The gear is stored in Miners' League Crates throughout the mine. Good luck.
Rewards
You will also receive: 6
(or 7
20

at max level)
Progress
Do you have that Miners' Gear, <name>?
Completion
Did you see a lot of kobolds in there? The thought of their grimy hands clawing around our mine makes my stomach rumble!
Notes
Pick up

 [13] Who's In Charge Here? and

 [13] A Nasty Exploit before heading out.
Back to the mine, but this time, heading into the mine itself! Go killing geomancers, looting gear and getting to Foreman Sharpsneer, found at [34.7, 26.8]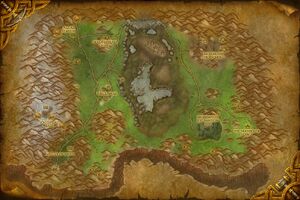 all the way at the southern end of the mine.
Progression
Optional breadcrumbs:

 [10] Reinforcements for Loch Modan or

 [10] Hero's Call: Loch Modan!
South Gate Pass
 [11] 

The Lost Pilot

 [1-30] 

A Pilot's Revenge
Valley of Kings and Thelsamar
 [12] 

In Defense of the King's Lands

 [12] 

A Decisive Strike

 [12] 

Onward to Thelsamar
Main chain
Patch changes
External links