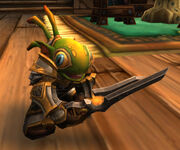 Finduin is the Alliance murloc companion given out to attendees for BlizzCon 2019. It is modeled after Anduin Wrynn. It occasionally summons Genji.
Pet Journal
An unlikely leader of murlocs that had to step into the role after the death of his father, Murgian.
Battle
Humanoid: Recovers 4% of their maximum health if they dealt damage this round.
Patch changes
External links
Battle pet types
Humanoid battle pets

Dal

Finduin

Lightless Tormentor

Lost Featherling

Rook

Ruffle

Spriggan Trickster

Steward Featherling

Winterleaf Spriggan