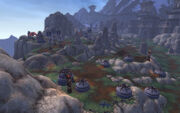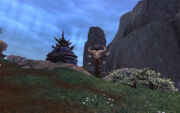 Fire Camp Osul is home to the Osul tribe of yaungol. Found just southwest of the Ox Gate bordering Kun-Lai Summit, Jung Duk leads the Osul. Lin Silentstrike was captured back during

 [20-35] Finish This! and can be found here as well. The Shado-Pan have claimed Longying Outpost, which is just to the southeast. Like in several other yaungol fire camps, mobile oil derricks can be found there.
The totem Dominance, one of the objectives of the Pandaria exploration achievement

 [The Song of the Yaungol], is found in the upper part of the mesa, not far from Battat and Urang.
The Fire Camp Osul Digsite here actually covers Fire Camp Osul and Fire Camp Gai-Cho. It is a Mogu archaeology site.
Inhabitants
Trivia
During the beta, it was named Osul Mesa.
Patch changes
External links