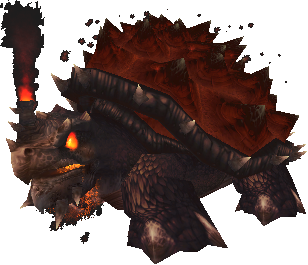 Fire turtles are fiery turtles mostly found in the Firelands. A few notable ones have also been seen outside of the plane of fire and even being worshiped by pygmies on the Lost Isles.
Types
Notable
Notes
While the fire turtles are most notable by the fiery model, some turtles may be considered fire turtles by simply being able to breath fire or have spawned from a fire turtle. An example of this would be the Children of Volcanoth.
Only Terrorpene can be tamed by hunters.
Gallery
Creature group
Elemental creatures

Elements

Types
Variants

Air variant
Earth variant
Fire variant
Water variant

Other
Golem
Nature