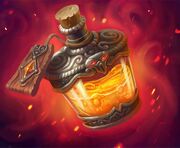 Firebloom is an herb that can be gathered with Herbalism (205).
Firebloom grows in particularly hot southern areas of Tanaris and is used by the ogres there to spice up their otherwise bland meals.[1]
Source
Firebloom can be found in hot regions, most frequently Tanaris and the Searing Gorge, but also in the Blasted Lands and the Badlands.
Pickable Zones
As an ingredient
Alchemy
Enchanting
Tailoring
Inscription
As a quest objective
Notes
Firebloom normally sells relatively well in the auction house.
Patch changes
See also
References
External links
Types of

herbs

Apprentice Herbalism
Journeyman
Expert
Artisan
Master
Grand Master
Illustrious Grand Master
Zen Master
Draenor
Legion

Battle for Azeroth
Shadowlands