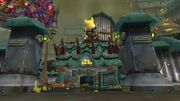 The First Bank of Kezan is a heavily-fortified bank of Bilgewater Port in Kezan. Unlike other banks, it deals in macaroons, a form of goblin paper money. Here, a long line of Kezan Citizens wait to deal with two FBoK Bank Tellers.
There are First Bank of Kezan Vaults.
Notes
Some signs capitalize it as the "First Bank Of Kezan".
Gallery
Patch changes
External links