Fish Frenzy is the quest that rewards the
 [Underlight Angler].
Objectives
Follow Nat Pagle to the Gloaming Reef, then dispatch all of the fish in the area.
Speak with Nat Pagle in Dalaran
Gloaming Reef fish dispatched
Return to Marcia in Dalaran
Description
<NAME>!
<pant, pant>
You've got to see it! The fish, they're... they're everywhere!
Off the coast of Val'sharah, something's whipping them up into a frenzy.
I've never seen better fishing in my life!
I've got a boat down below. Grab your pole and I'll take you there!
Rewards
Completion
What in the world have you brought me?! Nat told you to ask me to turn THIS into a pole?
<Marcia takes the severed lure from you. As she holds it close to the pearl, it begins to resonate with it.>
That's interesting. There seems to be a connection between this and the pearl. Maybe turning this into a fishing rod can yield some interesting results...
Gains
Notes
Howdy.
How's about some fishing?
Ever dipped your foot in some water and it's really cold?

 I'm ready. Take me to this fish frenzy of yours.
This will cause the player to enter a single-player scenario with Nat at the Gloaming Reef, off the shore of Val'sharah.
Stage 1 - Kill Murlocs
Slay all of the murlocs on the island.
Nat Pagle says: This is the place. Unfortunately it's teeming with murlocs.
Nat Pagle says: If you can take out those murlocs, it'll be easy fishing for the rest of the day.
Kill every last murloc on the island.
Stage 2 - Fishing
Fish up the Gloaming Frenzies.
Nat Pagle yells: You did it, <name>! Now let's fish up those frenzies!
Get 15

 [Gloaming Frenzy] by fishing in the pools and killing the Underlight Deepfeeders that semi-frequently spawn.
Stage 3 - Delivery
Give Nat your Gloaming Frenzies.
Turn in the fish to Nat, at [36.9, 55.9]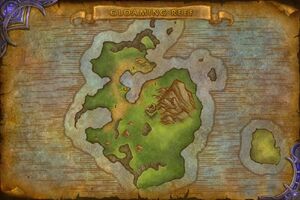 on the southwestern part of the island.
Nat Pagle says: As I was running around fishing up the frenzies, I noticed some bubbles over in this lagoon.
Nat Pagle says: I'm wondering if whatever's down there is what's been causing them to act up. Let's see if I can't rustle it up from where it's hiding.
Nat throws the barrel of fish into the water...
Stage 4 - What's below?
Fish up what's been disturbing the frenzies.
Nat Pagle says: Oh yea! There's definitely something down there. Let's fish it up, <name>.
Fish in the Roiling Whirlpool.
Stage 5 - Mglrrp
Nat Pagle yells: What in the great sea is that thing?!
Nat Pagle yells: Quick! Kill it with fire or whatever it is you adventurers use!
Mglrrp spawns. Kill it.
Finale
Nat Pagle says: What a beast! And a great catch to boot!
Nat Pagle says: You know, that lure on the top of it's head would make for a great fishing rod...
Nat starts hacking off a part of Mglrrp.
Nat Pagle says: Yea, I know that may seem gross, but just look at it! Fish'll come flocking towards something like that.
Nat Pagle says: Here, you take it. Give it to Marcia in Dalaran. She's great at turning things into fishing rods.
Nat Pagle says: You can take my boat there to get back if you have no other means.
A Boat to Dalaran spawns - take it to return to Marcia in Dalaran.
Progression
  [10-45] 

Luminous Pearl

  [10-45] 

The Dalaran Fountain

  [10-45] 

Fish Frenzy
Patch changes
External links