For the enchant, see  

[

Fishing

]

.
Fishing is a secondary profession. It allows adventurers to fish various objects, primarily fish and other waterbound creatures, from water, lava and even liquid mercury. Many of these fish can be consumed immediately for a quantity of health restored, and can also be fed to hunter pets. However, the true value of this scaly bounty comes when combined with the profession of Cooking; fish can be prepared and combined into innumerable different recipes, providing far greater restorative benefits, as well as a menagerie of potential stat buffs. Other, rarer fish are used in Alchemy recipes or provide stranger benefits, such as transformation into different appearances and even the summoning of rare mobs. In addition, those who choose to fish may find unfortunate sea creatures who swallowed gems, as well as items (including wieldable fish such as
 [Old Crafty] and
 [Old Ironjaw], and even the previously powerful 1 Ring) and mounts (Great Sea Ray). Many of these can be sold on the Auction House.
This profession is one of the most underappreciated, in part due to the time commitment required; however, those who choose to explore the potential bounties of the seas and rivers of Azeroth and beyond will find many benefits. There is a small army of questgivers and vendors linked to fishing, allowing access to a variety of mounts, toys and other perks-- there is even an entire faction in Pandaria dedicated to fishing, led by the most famous angler of all, Nat Pagle.
Allows the person fishing to efficiently gather fish.
Although fishing previously required an aspiring angler to equip one of the many types of fishing poles found throughout the worlds, recent developments have allowed them to fish by simply receiving the appropriate training (which varies on an expansion-by-expansion basis) and clicking the button. Many choose to put the ability on their hotbar for easier recasting.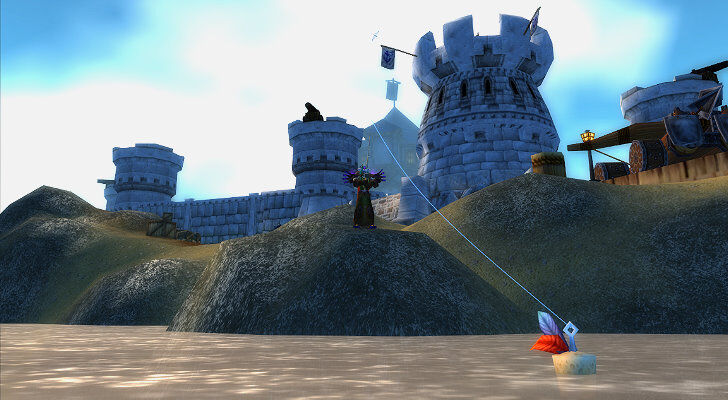 From the official site
How to fish
Technical information
Training
Increasing fishing skill
Items that increase fishing skill
Maximum effective fishing skill
Items you can fish up
Quests
Tips
Best class for fishing
Trivia
Patches and hotfixes
See also
References
External links