For the subzone, see Fjorn's Anvil (subzone).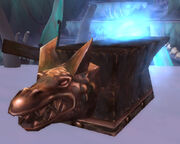 Fjorn's Anvil is an object quest giver in Dun Niffelem.[63.1, 62.8]

After having been moved from it's original location of its owner Fjorn, it gives players the daily quest

 [25-30 Daily] Hot and Cold.
Quests
 [25-30] 

A Spark of Hope

 [25-30] 

The Refiner's Fire

 [25-30 Daily] 

Hot and Cold
Quotes
Gossip
Fjorn's Anvil now stands prominently in Dun Niffelem as a symbol of their victory over Fjorn and his armies.
You can't help but smile, knowing that your actions have had such a lasting impact on the world.
External links