Flask of Blazegrease
Flask of Blazegrease
Use: Carefully crate the restored artifact.
"Artifact details have already been logged in your Archaeology Journal, under the Completed Artifacts tab."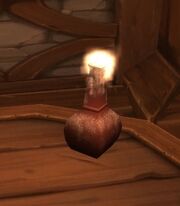 Flask of Blazegrease is a common Draenor Clans archaeology artifact, created from 50 Draenor Clans Archaeology Fragments. One
 [Draenor Clan Orator Cane] may be used to solve this artifact.
Description
Sticky, smelly, and highly flammable, the substance in this small container is liberally applied to the swords and axes of the Burning Blade clan before battle. Though some warriors choose to ignite their weapons before battle, most let the inevitable contact of blades and armor spark the blazegrease for unpredictable intimidation.
Patch changes
External links