Not to be confused with Fleshbeast.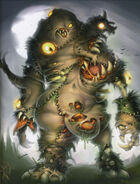 Mutated abominations[1][2] are powerful abomination constructs of the Scourge that was created by Professor Putricide.
Notable
Other
As a companion pet
Trivia
Their name in the game files and concept art is "flesh beast".
Saurok Primordius is also refereed to as a "Mutated Abomination".
Gallery
References
Leaders
Characters
Undead types

Living followers
Cities
Territories
Groups
Defectors
Buildings & constructs