"Nathanos must pay for what he has done to the other SI:7 agents."[1]
Flint Shadowmore is a human located at Chillwind Camp in the Western Plaguelands.
He is an SI:7 operative who was assigned to the Plaguelands partly to gather intelligence on 'the Blightcaller' with an Alliance adventurer.[2] He sent them on a reconnaissance mission at Marris Stead to look for any clues of the Blightcaller as well as for information about their missing operatives, Rutger, Fredo, and Turyen. The adventurer found their insignias and brought them back to Flint.[3] They also learned that the Blightcaller was actually Nathanos Marris. He asked the adventurer to return to report this finding to Bolvar Fordragon in Stormwind City.[4]
He is also located at Mok'gol Watchpost in Nagrand where he rescued the captured adventurer.[5]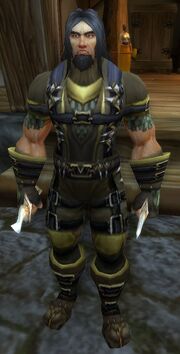 Abilities
  Backstab — Inflicts normal attack damage plus additional damage to an enemy, but only if attacking from behind. 
  Slice and Dice — Increases the caster's attack speed by 30% for 10 sec. 
  Stealth — Sneaking around. 
Quests
 [60G] 

Flint Shadowmore

 [60G] 

The Eastern Plagues

 [60G] 

The Blightcaller Cometh
Quotes
Mok'gol Watchpost
Gossip
I'll poke around here. See if you can find anything elsewhere in the camp.
Don't worry about me. I know my way around here.
Dialogue

Main article: The Warlord's Council (Alliance)#Notes
Trivia
See also
References
External links
| Western Plaguelands | Nagrand (alternate universe) | |
| --- | --- | --- |
| | | |