The subject of this article or section is part of Hallow's End
, a
seasonal event
that lasts two weeks. Once the event has run its course, this will no longer be available until next year, but there are no guarantees.
Flying Broom
Mount
Use: Summons and dismisses a Flying Broom!
Duration: 14 days (real time)
Requires Level 60
Requires Expert Riding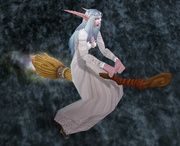 The Flying Broom can be looted from the
 [Loot-Filled Pumpkin] dropped from the Headless Horseman. The horseman is found in the graveyard wing of Scarlet Monastery during the Hallow's End seasonal event.
Notes
In 2008, this item was replaced by the  

[

Magic Broom

]

, which varied based on riding skill. In 2010, however, it began to reappear.
It was originally Bind on Use and had a 14-day duration from when first used.
The item description used to indicate that it was one-use, but this was not correct and eventually removed.
Unlike standard flying mounts, mounting the Flying Broom is Instant Cast, thus allowing it to be mounted while moving or falling.
Patch changes
Patch 4.0.1 (2010-10-12): This item can once again be obtained.

Patch 3.0.2 (2008-10-14): Removed in favor of the more flexible  

[

Magic Broom

]

.

Patch 2.2.2 (2007-10-02): Added.

See also
External links
Mount family

Dragonkin
Feathermane
Invertebrate
Mammal
Reptile
Other

Specific types