Flying Carpet
Mount
Use: Teaches you how to summon this mount.  This mount changes depending on your Riding skill and location.
Requires Level 60
Requires Expert Riding
Requires Tailoring (300)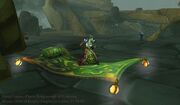 The Flying Carpet is a flying carpet mount which can be crafted by tailors.
Source
This item is created with Tailoring (300); taught by trainers.
Mount Journal
Hop aboard this flying carpet to see the shining, shimmering, and splendid world of Azeroth, wonder by wonder.
Trivia
This item, with the other flying carpets, have buffs "A new fantastic point of view!" and "Don't you dare close your eyes!" which are lyrics taken from Aladdin's A Whole New World.[1]
Patch changes
Patch 3.3.0 (2009-12-08): The skill requirement needed to learn how to craft this carpet has been reduced to 340, down from 410, and to learn it has been reduced to 300, down from 410. The old material requirements were also replaced with materials available in Outland.

Patch 3.2.0 (2009-08-04): Level requirement changed from 70 to 60.

Patch 3.0.3 (2008-11-04): Added.

References
External links
Mount family

Dragonkin
Feathermane
Invertebrate
Mammal
Reptile
Other

Specific types