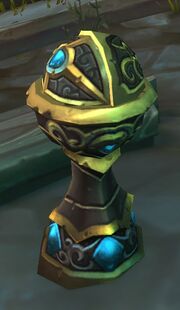 The Font of Power is found at the start of every mythic dungeon in Battle for Azeroth. It is used to insert a

 [Mythic Keystone] to start a Mythic+ dungeon at the keystone's level.
Gallery
Patch changes
Patch 8.0.1 (2018-07-17): Added to Battle for Azeroth dungeons. Removed from Legion dungeons.

Patch 7.0.3 (2016-07-19): Added.