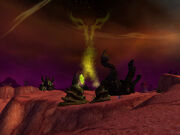 Forge Camp: Mageddon is the easternmost of three Burning Legion Forge Camps located on Hellfire Peninsula. It contains several gan'arg and a few succubi.
NPCs

Please add any available information to this section.

Trivia
The name may be taken from the biblical account called Armageddon.
During the beta, Nightlord Malphas was located here as part the cut quest-chain finale. The area was called Forge Base: Mageddon.[1]
References
^  [62G] 

Mission: Kill the Messenger
External links