Forge of Light

Forge of Light
Lightforged draenei racial
5 min cooldown
2 sec cast
Summon a Forge of Light, enabling Blacksmithing.




Blacksmithing skill increased by 10.

Usable by
Class
All
Race
Lightforged draenei
Properties
School
Physical
Cooldown
5 min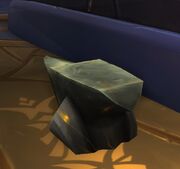 Forge of Light is an active racial ability for all lightforged draenei, summoning a Forge of Light acting as an anvil and providing a temporary boost to Blacksmithing.
Notes
Other Lightforged draenei can also see and use the Forge of Light summoned by this ability.
The Forge of Light can also be used as an anvil for Engineering. However, it acts only as an anvil, and contrary to its name, it cannot be used as a forge.
Patch changes
External links