For other uses, see Lucky.
Fortune Coin
Use: Teaches you how to summon this companion.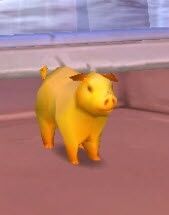 The Fortune Coin teaches you how to summon Lucky, a golden pig companion.
Source
This item was available to participants of the Blizzard Worldwide Invitational 2007, who were given a code that unlocks this pet in-game. The item can be acquired from the following NPCs by redeeming the WWI promotion codes:
Pet Journal
Lucky squeals when he's angry or when he's eating. Either way, you don't want to bother him.
Battles
Notes and trivia
Occasionally, Lucky grazes on weeds and wiggles its rear.
Warcraftpets.com reports that this pet can only be used on Korean servers. Though this seems unlikely, since there were many international visitors that attended the Worldwide Invitational 2007, the English language admission tickets do not contain any code to unlock this pet. It seems that the item is regional only.
2007 was the Year of the Golden Pig. Those born in The Year of the Golden Pig are supposed to be wealthy, prosperous, lucky, and fertile.
Patch changes
See also
External links
Battle pet types
Critter battle pets

Archetype of Multiplicity

Archetype of Survival

Archetype of Multiplicity

Ashen Chomper

Bloodlouse Larva

Corpselouse Larva

Decaying Mawrat

Decay Grub

Deepwood Leaper

Emerald Scarabid

Feasting Larva

Fierce Scarabid

Frenzied Mawrat

Hissing Deathroach

Leaping Leporid

Lucky

Metallic Scarabid

Plaguelouse Larva

Shelly

Timid Leporid

Tower Deathroach

Undying Deathroach