Fossilized Hatchling
Use: Teaches you how to summon this companion.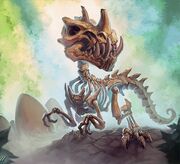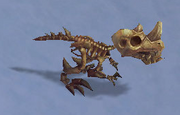 Fossilized Hatchling is a rare archaeology artifact that requires 75 skill to find and 85 Fossil Archaeology Fragments to solve.
Pet Journal
You stare at her, and she just stares right back. So clever; sometimes it seems as if she's figuring out how to open doors.
Description
A small companion pet in the likeness of a baby raptor's skeleton.
History
Unsolved
There is something unusual about these tiny raptor bones. The empty eye sockets don't quite seem empty. In fact, are they twinkling with a hint of life?
Solved
When you finished assembling this tiny skeleton through some eldritch magic, the little critter sprang back to life. He's a pretty good pet. Since he's a skeleton, he doesn't eat much.
Battles
Undead: Returns to life immortal for one round when killed, but deals 25% less damage.
Notes
The archaeology description refers to it as male, while the pet journal uses female. However, in the end, it is a skeleton, so does it really matter?
Patch changes
External links
Battle pet types
Undead battle pets

Backbone

Carpal

Clutch

Fossilized Hatchling

Lost Soul

Maw Crawler

Micromancer

Mu'dud

Severs

Spinebug

Toenail

Torghast Lurker

Writhing Spine