Fossorial Bile Larva
Use: Teaches you how to summon this companion.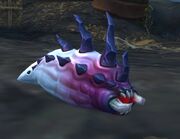 The Fossorial Bile Larva is a bilescourge larva companion.
Source
This item has a chance to drop when skinning creatures found on Argus.
Pet Journal
If a bile larva stays burrowed for an extended period of time they begin to lose their pigment. When they finally do emerge, they can be quite ravenous.
Battles
Patch changes
External links
Battle pet types
Beast battle pets

Archetype of Cunning

Archetype of Discovery

Archetype of Predation

Bloodfeaster Spiderling

Blushing Spiderling

Copperfur Kit

Corpulent Bonetusk

Fossorial Bile Larva

Goldenpaw Kit

Green Viperid

King Viperid

Momma Vombata

Red Viperid

Rosetipped Spiderling

Ruby Baubleworm

Rustfur Kit

Sable

Tarachnid Ambusher

Tarachnid Stalker

Topaz Baubleworm

Tunneling Vombata

Turquoise Baubleworm

Verdant Kit

Viperid Menace

Vombata Pup