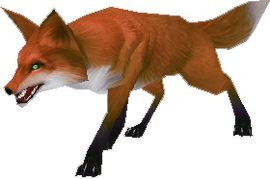 The fox is a small predator that is found in various areas around the Eastern Kingdoms, Pandaria, the Wandering Isle and the Broken Isles. They tend to be clever and cunning.[1]
Foxes are a good test of a hunter's skills, and their fluffy tails can be sold for fine profit to boot. Fox tails are as good to hang on a belt to ward off fleas as they are to line the gloves of a fancy noble.[2] During frigid nights in the Storm Peaks, the arctic fox kits use their fluffy tails as a blanket to stay warm.[3]
Alpine foxlings burrow deep into snowbanks to hide from predators,[4] and their kits occasionally sneaks bites of food from kills made by much larger animals.[5]
The fighting in Tol Barad has made it difficult to find the native fox kits, and numerous would-be owners have decimated the fox population there as a result.[6]
The sleek Llothien prowlers can prowl amongst newly-fallen leaves without making a sound, despite their large size.[7]
Vulpin are foxlike creatures native to Ardenweald in the Shadowlands.
Notable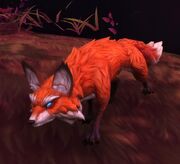 Types
As a mount
Main article: Fox mounts
As a companion pet
As a hunter pet
Foxes are a family of ferocity pets and are tamable by Hunters starting at level 10. Their basic ability is

[Bite], and their special ability is a physical attack speed debuff called
[Tailspin], cause all enemies within 10 yards to have their melee and ranged attack speed reduced by 20% for 30 sec. This is useful both in PvP and PvE, although most tanks have similar debuffs. Additionally, they have a bonus ability called

[Play], which allows the hunter to make the fox perform a cute dance.
There are six different skins available for fox pets. The

 Baradin Fox changes color upon each summon, while

 Ashtail has a distinct silver-grey model.
Patch changes
Notes
In the RPG

This section contains information from the Warcraft RPG which is considered non-canon.
Foxes can be found in the Emerald Dream. They exist in the proper balance.[9]
References
External links

Petopia
Creature group
Beast creatures

 

Arthropod

Arachnid
Crustacean
Insect

 

Mammal

Carnivoran
Ungulate

Bovids
Camelids
Cetaceans
Proboscids
Swine
 

Basic
Special

Acid Bite

Chi-Ji's Tranquility

Defense Matrix

Dragon's Guile

Feather Flurry

Fleethoof

Furious Bite

Grievous Bite

Infected Bite

Nether Energy

Niuzao's Fortitude

Obsidian Skin

Scale Shield

Spirit Pulse

Toxic Sting

Winged Agility

Exotic

Calcified Carapace

Dune Strider

Shimmering Scale

Bonus
Specialization