Not to be confused with Baradin Fox Kit.
Fox Kit
Use: Teaches you how to summon this companion.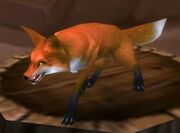 Source
This item has an extremely low (0.1%) chance to drop from Baradin Foxes on Tol Barad Peninsula. It can also be bought for 200
from the Baradin's Wardens and Hellscream's Reach quartermasters.
Pet Journal
The fighting in Tol Barad has made it difficult to find these kits, and numerous would-be owners have decimated the fox population there as a result.
Battles
Notes
This pet has several idle animations. It will sit down and scratch its ear, sniff the ground, and dance (like the tamed fox's

[Play] ability).
Patch changes
External links
Battle pet types
Beast battle pets

Archetype of Cunning

Archetype of Discovery

Archetype of Predation

Bloodfeaster Spiderling

Blushing Spiderling

Copperfur Kit

Corpulent Bonetusk

Fox Kit

Goldenpaw Kit

Green Viperid

King Viperid

Momma Vombata

Red Viperid

Rosetipped Spiderling

Ruby Baubleworm

Rustfur Kit

Sable

Tarachnid Ambusher

Tarachnid Stalker

Topaz Baubleworm

Tunneling Vombata

Turquoise Baubleworm

Verdant Kit

Viperid Menace

Vombata Pup