The subject of this article was removed from World of Warcraft in patch 5.0.4.

This includes items and quests that can no longer be obtained or are now deprecated.
The in-game information in this article is kept purely for historical purposes.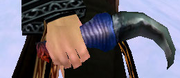 Frightalon dropped from Kirtonos the Herald in Scholomance with an estimated drop rate of 17%.
Patch changes
External links