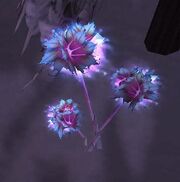 Frost Lotus is a herb that can be gathered with Herbalism.
Source
Frost Lotus is typically gathered, in addition to other herbs, from herb nodes in Northrend such as
 [Icethorn] or

 [Lichbloom] although all herbs of Northrend have an equal 7.5% drop rate.
Wintergrasp and The Conservatory of Life are the only places where players can find Frost Lotus nodes, which also have a 7.5% chance to drop an additional lotus.
Players should note that Frozen Herbs will not yield a Frost Lotus.
As an ingredient
Alchemy
Tailoring
Patch changes
External links
Types of

herbs

Apprentice Herbalism
Journeyman
Expert
Artisan
Master
Grand Master
Illustrious Grand Master
Zen Master
Draenor
Legion

Battle for Azeroth
Shadowlands